A serving is considered 16 grams of whole grain (ingredient) in a whole grain product. Some exact serving sizes of whole grain foods are: 1/2 cup cooked brown rice, 100% whole grain pasta, oatmeal, or other cooked grain; 1 slice 100% whole grain bread; or 1 ounce of 100% whole grain cereal. Check the label for the whole grain symbol to help you decipher if a product is a whole grain.
Choose at least seven to eight servings a day, such as:
1 slice bread;
3/4 to 1 cup breakfast cereal;
1/2 cup cooked cereal, grains, or pasta.
Continue Learning about Eating Habits and Nutrition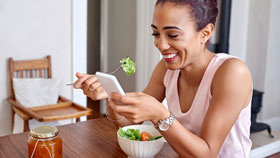 Three meals a day or five? That's only one aspect of the behavior known as eating habits. There is also the matter of style. Do you plan your meals or eat on the run - do you eat when you are happy, sad, or stressed - these are ot...
hers. Recognizing your eating style can help you work to achieve healthier eating habits.
More