When a woman has both ovaries removed (bilateral oophorectomy) before an age when most women naturally go through menopause -- which is usually around 50 -- menopause will start abruptly because the body has lost its main estrogen factory. Once the ovaries are gone, the factory shuts down and there is less estrogen available for other tissues and cells that need it. The symptoms are similar to a woman going though natural menopause, but can be more severe.
Ovaries are generally removed if a woman has ovarian cancer or is removing them to prevent ovarian cancer because she is at high risk. If a woman is having a hysterectomy she may also decide to have her ovaries removed even they are not diseased. This is not a one-size-fits-all decision, and it should be based on a discussion with a doctor that takes into account age, health and personal preference.
A woman who has both ovaries removed will enter menopause before her body was naturally ready to do so. The ovaries release eggs as well as produce estrogen, a hormone needed to regulate monthly menstrual periods.

If the ovaries are surgically removed, a woman does not have a natural source of estrogen, and she enters surgical menopause, which can also be early menopause. Early natural menopause, on the other hand, occurs if a woman stops getting her period and her estrogen production drops before she is 45.
If your uterus and both your ovaries are removed, you will never again menstruate; and because of the abrupt loss of ovarian hormones, you will undergo menopause-related changes almost immediately. This result is referred to as sudden menopause or surgically induced menopause. It is in strong contrast to natural menopause, which is often a very gradual process in women who have the continued function of their uterus and ovaries. After the surgery, you will probably experience more sudden and severe vasomotor signs (such as hot flashes and night sweats) than are typically experienced in natural menopause. While postmenopausal ovaries still continue to produce some estrogens and androgens, immediate and permanent removal of the ovaries eliminates this major source of hormone production.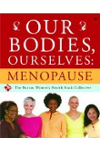 More About this Book
Our Bodies, Ourselves: Menopause
FROM THE EDITORS OF THE CLASSIC "BIBLE OF WOMEN'S HEALTH," A TRUSTWORTHY, UP-TO-DATE GUIDE TO HELP EVERY WOMAN NAVIGATE THE MENOPAUSE TRANSITION For decades, millions of women have relied on Our...
Continue Learning about Early Menopause

Early menopause can be caused by hysterectomy, cancer treatment and early changes in ovary function. Your doctor may recommend hormone replacement therapy (HRT) to reduce your risk for several health problems, including infertilit...
y, osteoporosis, underactive thyroid and heart disease.
More