Before breast cancer surgery, you should research your options. Consider these questions:
What are my surgical options?
What are my reconstructive options?
What are my medical options?
Do I need chemotherapy?
What are my radiation options?
Some women will also wonder, do I need a second opinion? I believe that if you go to the right people, you don't. But do your research about the doctor you're seeing. Make sure that person is an expert in the treatment of breast cancer. Ask, "how many breast surgeries do you do in a year?" If you're seeing a medical oncologist, ask, "how many breast cancer patients do you see in a year?"
Before breast cancer surgery you should ask questions about anything and everything. The way for you to make the best decisions during your treatment process is to be armed with as much information as possible. You should visit with a medical oncologist (chemotherapy) and a radiation oncologist (radiation) in addition to your breast surgeon. You may feel like you don't know what to ask and that's okay. Your breast cancer treatment team will be happy to answer any questions that come to mind later. All you have to do is call. Below is a short list of common questions:
What type of breast cancer do I have?
What is my breast cancer stage?
Will I need chemotherapy?
Will I need radiation?
What are my surgery options?
Am I a candidate for reconstruction?
What are the risks of surgery?
What can I expect after I go home from surgery?
What signs or symptoms should I watch out for after surgery?
What is lymphedema?
Who can get lymphedema?
What if I change my mind about my surgery option?
The most important thing is to ask your doctor to go over your various options in great detail. It's a very important choice, so you want to understand all of your options. And with breast cancer surgery, there are usually multiple options that are equally good. Then, like with any operation, you want to ask about:
The risks and complications
The expected time that it will take you to recover
The short- and long-term limitations on activity
Each patient should undergo a very thorough consultation with both the medical oncologist and the general surgeon prior to the mastectomy surgery. The specific breast cancer diagnosis, including stage and grade, adjuvant therapy including chemotherapy, radiation therapy, and hormonal therapy (Tamoxifen) should be discussed. Finally, the specific type of surgery (lumpectomy, mastectomy, partial mastectomy, radical mastectomy) with or without lymph node dissection (axillary lymphadenectomy) should be reviewed.
By asking good questions before you have breast surgery, you'll be a well-informed patient and make the most of your time with your surgeon. Let your surgeon know that you consider yourself to be an active player in your fight against breast cancer.
What, if any, viable alternatives to breast surgery do I have?
Please describe my non-surgical options. If none, why do you recommend breast surgery for me?
Which type of breast surgery do you recommend for me? Why?
What are the specific objectives and benefits of this surgery in my case?
How many of each type of breast surgery did you personally perform during the past year?
What is your personal preference for performing lumpectomies versus mastectomies?
Please describe this surgery in simple terms including the exact procedures and how long it will take.
Where will this surgery be performed?
What are the short-term and long-term risks for this surgery?
Will there be any likely long-term changes from this surgery that won't go away?
Who will do the actual surgery?
Do I have any choice in who will perform my surgery?
Will you have others or medical students who will assist in a major way?
What can I expect during my immediate recovery?
How long will I be in the hospital?
Who will be responsible for my care while I'm in the hospital?
How long will the healing take?
When can I return to work and my daily routines? Exercise? Drive?
Will I need someone to help me after I leave the hospital?
What will my breast (or chest) look like and feel like after the surgery?
Where will the scars be and what will they look like?
What is the most probable outcome from this surgery?
How likely will this surgery reduce my risk of recurring or spreading breast cancer?
How long has the operating room team worked together?
Should I donate my own blood prior to surgery as a precaution in case I need a transfusion?
Will my tumor be saved? Where will it be stored and for how long?
If my tumor is saved, how can I or future researchers access it later for study or for a clinical trial I might participate in?
Should I think about additional surgery at the same time as my mastectomy or lumpectomy, such as breast reconstruction?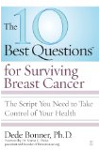 Continue Learning about Breast Cancer