A double mastectomy is removing both breasts. This can be done by removing all skin and breast tissue, and leaving the chest wall flat, or by removing the breast tissue, while leaving the nipple and areola, and an envelope of skin. By leaving the nipple and areola, and the skin of the breast, a plastic surgeon can come in at the same operation and do immediate reconstruction of the breast.
Immediate reconstruction can be done by placement of implants under the chest wall muscle or by rotating muscle and skin from another area of the body. When immediate reconstruction is performed, studies have shown that it is psychologically a benefit to the woman. Of course, reconstruction is a personal choice, and every woman makes a choice based on her own personal feelings.
One of the most common reasons that a woman has a double mastectomy is when she is found to be carrying a gene mutation that gives a very high lifetime risk of breast cancer. For example, the BRCA 1 and 2 gene mutation (like the mutation Angelina Jolie carries) gives a high risk of breast cancer by age 70 (from 50-80% risk). We know that by removing the breast tissue it decreases this risk by 98%.
In other cases, a woman with breast cancer or "pre-cancer" changes in one breast may choose to have a double mastectomy. They may make this decision so both breasts look the same.
In America, unlike Europe or other parts of the world, more women are choosing to remove both breasts, when they have cancer in only one breast. There are several thoughts as to why women are making this choice, but these are only speculative, as the exact reasons for increased double mastectomy in the United States are unknown.
Increased awareness of genetic mutations for breast cancer that gives a woman a very high risk of breast cancer in either breast over her lifetime. Double mastectomy in women with a genetic mutation decreases her risk of breast cancer in either breast.
Symmetry: Women who are having a mastectomy on one side may choose to have the same operation on the other breast so the breasts look the same.
Improvement in techniques for double mastectomy: It is now common to leave the nipple and areola, and the skin envelope of the breast, so that the breast retains a more natural appearance after mastectomy.
Improvement in techniques for immediate reconstruction, including implants and skin and muscle rotation into the area to recreate a breast.
Overestimation of risk of breast cancer coming back in the opposite breast. With the advances in treatment of breast cancer over the past 20 years, this risk is actually much lower than many people may think (5% after 10 years of treatment).
Overall, most women who do make the decision to have a double mastectomy are satisfied with that decision even 10 years later.
Some women have both breasts removed in what's called a double mastectomy. A double mastectomy is sometimes used as a preventive measure for high-risk women. There are also women who opt to eliminate as much chance of cancer recurrence as possible by having a double mastectomy.
A study reported by the National Research Center for Women and Families found that half of the women whom experts deem eligible for lumpectomy chose a mastectomy instead. In fact, an increasing number of women are choosing to have mastectomies over breast-conserving surgery.
Cancer surgeon Todd Tuttle, M.D., Chief of Surgical Oncology at the University of Minnesota, has noted a growing number of double mastectomies, especially among younger women. "I think this is an emotional decision. Women want to avoid this awful experience again. But I'm always concerned that this decision is rushed just because of the nature of breast cancer."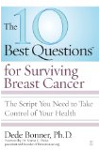 Continue Learning about Breast Cancer Treatment
After a breast cancer diagnosis, there are many decisions to make. A multidisciplinary team of doctors and specialists can help get a treatment plan started and you can choose a treatment facility. In the past, breast cancer treat...
ment involved a radical mastectomy, but today procedures are less invasive. Treatment will depend on the stage of breast cancer. It may include surgery, such as lumpectomy, radiation or chemotherapy to shrink and kill cancer cells. Learn more about breast cancer treatment options with expert advice from Sharecare.
More