Cells in the breast contain receptors for the female hormones estrogen and progesterone, called hormone receptors. These receptors allow the breast tissue to grow or change in response to changing hormone levels. Research finds that about two-thirds of all breast cancers contain significant levels of estrogen receptors. These tumors are said to be estrogen receptor positive (ER+). Tumors that contain progesterone receptors are said to be progesterone receptor positive (PR+). About two-thirds of breast tumors contain at least one of these receptors. Tumors that are hormone receptor positive are more likely to respond to hormone therapy. These tumors also tend to grow less aggressively, resulting in a better prognosis.
A hormone receptor test measures the amount of certain proteins, called hormone receptors, in cancer tissue. Hormones can attach to these proteins. A high level of hormone receptors may mean that hormones help the cancer grow.
Hormones such as estrogen and progesterone play a role in the growth of many breast cancers. It is important to know whether a tumor is positive or negative for either of these hormone receptors. An estrogen-receptor-positive tumor is called ER positive (or ER+), and a progesterone-receptor-positive tumor is called PR positive (or PR+).
The hormone receptor status is used as a prognostic marker. Hormone receptor status testing is recommended as part of an initial workup of invasive breast cancer. It is not diagnostic, but it helps the doctor determine treatment options and understand more about the tumor's characteristics and personality.
The hormone receptor status test is also used to help determine treatment options. This is one of the most important pieces of information on the pathology report. Being ER/PR positive means you might benefit from hormone therapy. Hormone therapy is actually therapy with an oral drug, usually tamoxifen or aromatase inhibiters, that blocks hormone receptors in the cancer cell.
In general, if a patient's cancer is ER positive and PR positive, the patient will have a better-than-average prognosis, and their cancer is likely to respond to hormone therapy (also called "endocrine therapy" or "anti-hormone treatments"). The more receptors present and the more intense their reaction, the more likely the positive response. However, an individual's response depends on a variety of factors. If a patient's cancer is ER negative but PR positive, the patient may still benefit from endocrine therapy but may have a diminished response. If the cancer is both ER negative and PR negative, then the patient will probably not benefit from endocrine therapy.
Hormone receptor status testing is not available in every laboratory. It requires experience and special training to perform and interpret. Your doctor may send your sample to a reference laboratory, and it may take several weeks before your results are available.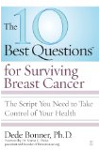 Continue Learning about Breast Cancer Treatment