The potential pool of new practicing allergists is diminishing, even as the number of current practitioners is shrinking due to retirement. There are only 5,000 to 6,000 board-certified allergists out of 600,000 practicing MDs in the United States, and as of late 2009, just over 300 doctors were in accredited training programs for allergy and immunology, compared to more than 22,000 for internal medicine. Since allergy programs are at least two years, roughly 150 new allergists are produced each year. (Figures are from the Accreditation Council for Graduate Medical Education.) If allergists have a thirty-year career, then some 170 to 200 retire each year, for a net loss in the pool of board-certified allergists. The problem is complicated further by the fact that many of those residents will go into research, not into clinical practice at the same time many allergists are getting older. There's no way to measure exactly how many of my colleagues are retiring, but when we go to conferences, there are more doctors who look the way we do now than there were thirty-five years ago.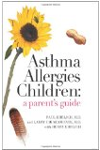 More About this Book
Asthma Allergies Children: A Parent's Guide
Asthma and allergies are at epidemic proportions. It doesn't have to be that way. Two experienced pediatric allergists tell everything a conscientious parent needs to know about these conditions,...
Continue Learning about Allergies