The most common side effects of antibiotics include upset stomach and nausea. Other side effects include increased sun sensitivity, headaches, and yeast infections in women. Some antibiotics are more prone to cause some of the side effects than others. For example, sun sensitivity is more of a problem with the doxycycline family of antibiotics; however, the minocyclines have been associated with an autoimmune condition called lupus erythematosus, which is usually reversed when the medication is stopped. The erythromycins are known to be more likely to cause stomach upset, even though all antibiotics can cause this. Pseudomembranous colitis is a potentially serious intestinal problem that can uncommonly be caused by any of the antibiotics but is usually associated with clindamycin.

If you get a rash or other symptoms that you think might be due to any medication that you are taking, you should call your doctor immediately for advice. Oral antibiotics should not be combined with isotretinoin because of the potential for a condition called pseudotumor cerebri, which feels like a really bad headache. Because most antibiotics are digested by the liver, drinking alcohol should be avoided if possible to limit the stress and potential damage to the liver.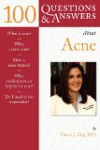 More About this Book
100 Questions & Answers About Acne
100 Questions and Answers About Acne provides you with all the information you need to manage your complexion problems. Written by Dr. Doris J. Day, a world-class expert in the field, this clearly...
Continue Learning about Acne Treatment