Creams that are designed to lighten the skin are available; this can be very useful for hyperpigmentation that results from acne. The active ingredient in most lightening creams is called hydroquinone. Many over-the-counter and prescription formulations containing hydroquinones are available on the market. Some formulations combine hydroquinones with glycolic acid, tretinoin (the active ingredient in Retin-A), sunscreens, antioxidants, moisturizers, and many other wonderful ingredients to make their form of hydroquinone better and more appealing. The main difference in over-the-counter versus prescription medications is that the over-the-counter formulations can have a maximum of 2% hydroquinone, whereas the prescription formulations can use up to a 4% concentration of hydroquinone.

Other products used to help lighten the skin include licorice extract, yeast ferment, rosmarinic acid, glucosamine, vitamin C, and chamomile extract. Most of these lightening products contain 2%-4% hydroquinone along with other agents such as up to 10% glycolic acid, with a sun protection factor (SPF) of 15 in those containing sunscreen. They come in various forms (from creams to lotion to solutions) in order to make them more appealing to different skin types. Some formulations are more irritating than others. These products take time to work, and results typically begin to be noticeable approximately 1 month after starting treatment.

I generally recommend that the product be used on the entire face or on a larger area as opposed to spot treatment in order to avoid the "halo" effect (a ring of lighter skin that is around the spot and that is usually reversible but can be disconcerting because it can take weeks to months to resolve).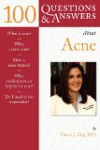 More About this Book
100 Questions & Answers About Acne
100 Questions and Answers About Acne provides you with all the information you need to manage your complexion problems. Written by Dr. Doris J. Day, a world-class expert in the field, this clearly...
Continue Learning about Acne Treatment