If you feel that your acne is persistent or is leading to scarring and you have tried what you consider to be a reasonable treatment course with over-the-counter and/or prescription medications, you may want to consider consulting a dermatologist for your acne. Dermatologists are medical doctors who specialize in all conditions of the skin, hair, and nails. Some insurance plans require referrals from the primary care physician. In these cases, you may need to request a referral in order to have your insurance cover the visits.

Dermatologists specialize in the treatment of acne, as well as many other skin conditions, and are most likely to be aware of the latest trends in treatments options to help control the acne as quickly as possible; however, not everyone needs to see a doctor to have his or her acne treated. Many people with mild acne do very well with over-the-counter treatments that are widely available. In fact, most people have tried at least one or several over-the-counter or prescription treatments before consulting a dermatologist.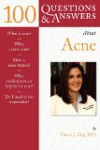 More About this Book
100 Questions & Answers About Acne
100 Questions and Answers About Acne provides you with all the information you need to manage your complexion problems. Written by Dr. Doris J. Day, a world-class expert in the field, this clearly...
Continue Learning about Acne Treatment