Because acne is a chronic condition of the skin that can wax and wane over a period of many years, treatments occasionally need to be adjusted in order to account for flares of the acne or acne that becomes resistant to the current treatment.

Most acne treatment regimens are done on a rotational basis, meaning that you start with one regimen that works for you. Over time, you may notice that in spite of using the products as directed, you start to get new lesions on a regular basis. One or all of the medications will then need to be changed. When the new regimen again becomes less effective, the rotation continues to either new products or products that were effective in the past but have not been used for a while.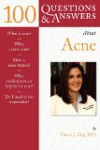 More About this Book
100 Questions & Answers About Acne
100 Questions and Answers About Acne provides you with all the information you need to manage your complexion problems. Written by Dr. Doris J. Day, a world-class expert in the field, this clearly...
Continue Learning about Acne Treatment