Because isotretinoin can affect bones and other organ systems, there is a maximal lifetime dose that is considered safe and appropriate in order to minimize the risk of adverse long-term reactions. Most people on a typical course of the drug of 0.8 mg/kg for a 16- to 20-week course could do three treatment courses over their lifetime if necessary. Many doctors will use the approximate 0.8 mg/kg as an average treatment dose but will not hesitate to increase the dose in order to get the desired results. Many of the side effects are dose related and can limit the amount of drug given.
Sometimes low-dose isotretinoin is very effective, and this not only minimizes side effects but also allows for it to be used intermittently, over time, as needed and with proper monitoring without concern of reaching the maximal dosage.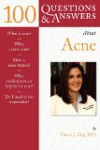 More About this Book
100 Questions & Answers About Acne
100 Questions and Answers About Acne provides you with all the information you need to manage your complexion problems. Written by Dr. Doris J. Day, a world-class expert in the field, this clearly...
Continue Learning about Acne Treatment