Dirt does not cause pimples. Pimples occur when pores become clogged with oil. Your skin naturally produces oil to keep it from drying out, but a surge of hormones can cause skin to produce too much oil. A pimple is formed when the oil mixes with dead skin cells and forms a "plug" that blocks the pore. If the plug is exposed to air it turns black, forming a blackhead. If the pore is completely blocked, a whitehead forms. Pimples can also be caused by bacteria. Bacteria thrive on the excess oil inside the blocked pore, and when the skin tries to fight the bacteria, the pore swells and turns red. Teenagers and pregnant women are particularly vulnerable to hormonal changes and pimples. Overzealous scrubbing and cleaning won't help you avoid pimples and will likely irritate your skin. The best way to help reduce the buildup of oil is by washing with a gentle cleanser in the morning and before bed.
Pimples start underneath the skin, not in dirt on the top. Pimples are the visible result of your immune system responding to a build up of bacteria in a hair follicle opening clogged by oil and dead skin cells. Watch the animation to learn more about pimples.



Continue Learning about Acne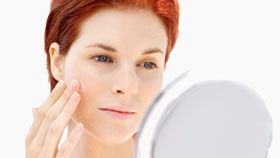 Acne is an inflammatory condition of the skin. Learn from our experts on the difference between whiteheads, blackheads and bumps and how to cope with the stress of acne.