The definition of "oil free" is more complicated that it first seems. All oil-free products avoid most ingredients that contain the actual word "oil" in their name, such as "mineral oil." However, plenty of ingredients do not have the literal word "oil" in their name, such as glyceryl tribehenate or lanolin. Also, there are some ingredients such as waxes like carnauba and oily hydrocarbons like petrolatum and squalene that are not oils but should not be included in an oil-free product. The skin-care industry is not always clear or strict in avoiding these ingredients in oil-free formulations. Oils such as essential oils, such as those used as fragrance, are not a problem in that they do not behave as other oils and can be used in the oil-free formulations.

Oil-free products can be divided into two groups. The first contains strictly oil-free products, which are usually drying. There are some excellent exceptions in that ingredients such as propylene glycol, glycerin, and silicone bases are not oils and are not drying. For people with acne that is resistant to treatment, it is very helpful to identify products that are strictly oil free to complement their topical therapy. These products include solutions, gels, and emulsions of oil-free ingredients. Ingredients such as fatty acids, fatty alcohols, sterols, and silicones are acceptable in strictly oil-free preparations. The second group consists of borderline oil-free products that contain oil-like emollients called "esters." These esters, such as those based on monoglycerides or diglycerides, are not technically considered to be oils or fats but are oil-like in the way that they affect the skin. For example, many of the ingredients that have been classified as comedogenic are emollient esters. Oil-free emulsions of emollient esters and water are weakly moisturizing and are best used by people with slightly oily to slightly dry skin that want additional moisturizing.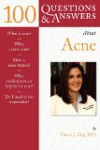 More About this Book
100 Questions & Answers About Acne
100 Questions and Answers About Acne provides you with all the information you need to manage your complexion problems. Written by Dr. Doris J. Day, a world-class expert in the field, this clearly...
Continue Learning about Acne Prevention