4 Simple Ways to Reduce Money Stress
Improve your bottom line and calm your mind with these strategies.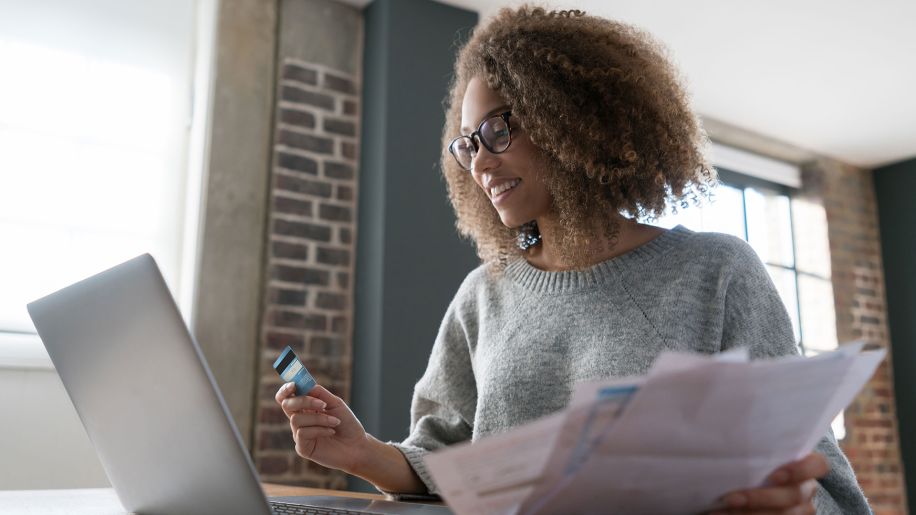 1 / 5
These days it seems like everyone has money woes. According to a 2021 report from the National Endowment for Financial Education (NEFE), 84 percent of people surveyed were under financial stress. Three-quarters of survey respondents needed financial assistance during the COVID-19 pandemic, leading them to take steps like tapping into retirement funds or emergency savings, increasing credit card debt, and deferring paying bills to make ends meet.
The outlook has improved a touch, but a majority of U.S. adults surveyed—roughly 54 percent—still felt they were just getting by financially heading into 2023, according to a December 2022 survey from NEFE.
Indeed, money can be a scary topic, especially if you grew up in a home where no one talked about it, or where poor money habits were modeled. But it is possible to run your finances, instead of having them run you. Remember, you didn't know how to ride a bike or use a computer until you learned.
It's also important to understand that cultivating financial wellness may take some time, but it is doable. According to a 2021 report from Personal Capital, 72 percent of people feel that financial freedom is more of a journey than a destination. Read on for simple tactics to make your financial trek more manageable.
2 / 5
Plan Your Finances
The old saying is that people don't plan to fail, they fail to plan. You don't need a PhD in economics to get started:
Next, look for reputable information on retirement and investing. The CFPB's consumer resources page is a good place to start. Your workplace might offer advice, as well, or you may choose to work with a certified financial planner.
Never think you don't have enough money to create a plan. Just putting a small amount into savings or investments can put you on the path to financial security.
3 / 5
Consolidate Your Accounts
There are so many banking options available today that you may still have an old savings account at your local branch, a checking account and debit card through an online bank, and your home loan at a third institution. Streamline your finances at one bank and ask for free checking in return. Open a savings account there to start your emergency fund.
The same goes for retirement accounts: You might have a few from former jobs or mutual funds you bought with graduation money years ago. Roll them into one brokerage with the lowest fees you can find. Some brokerages even offer free checking accounts with loads of perks.
Pro tip: Check terms every few years to make sure you're getting the best deal.
4 / 5
Automate Your Finances
Set up recurring billing and you'll never pay another late fee again. No need to buy checks or stamps, either. You can also automate savings and investing, allotting some from every paycheck. Don't worry—you'll quickly get used to living on what's left. Set it and forget it, then watch your money grow.
Check out free apps like Mint and Goodbudget, which will track your spending and display the results by category. This can be a truly useful wake-up call if you tend to spend without thinking. With Mint, you can even set a limit and ask to be notified when you get close to going over it.
5 / 5
Check Up on Your Insurance
You might be paying too much for not enough insurance. It's important to have sufficient coverage for your home and everything inside. Talk with an agent about auto coverage to ensure your plan will prevent you from being financially exposed if you have an accident.
It's important to get quotes from multiple companies and make an apples-to-apples comparison. If your coverage is too high, you can increase deductibles to reduce premiums on auto and homeowners policies. Ask about discounts for buying more than one policy with the same insurer; doing this can net 10 percent to 15 percent in premium savings. As your assets grow, consider an additional "umbrella" policy, which generally costs $150 to $300 per year for $1 million worth of coverage.
There's no time like today to focus on getting your financial house in order, preparing for your future, and reducing financial-related stress as much as possible.
Replay Slideshow
Slideshow sources
National Endowment for Financial Education. COVID-19 Survey. September 24, 2020.
National Endowment for Financial Education. Feelings Of Financial Wellbeing Moving Into The New Year, December 16-18, 2022. March 3, 2023.
Personal Capital. The Journey Toward Financial Freedom. 2021.
Kiplinger. How Much Umbrella Insurance Do I Need? August 3, 2021.
Ben Casselman. Pandemic Savings Boom May Be Ending, and Many Feel Short of Cash. New York Times. February 25, 2022.