Most of the time, the clitoris is the center of a woman's erotic world. In fact, 95% of women masturbate with no vaginal stimulation at all. G-spot stimulation is therefore a departure into a new world of sensation for a lot of women.
Between the clitoris and the vagina is the small, sometimes nearly invisible opening of the urethra, which leads to the bladder. This area is extremely sensitive, and women vary a lot in whether or not stimulation here feels erotic. For some women, it just feels like they have to pee.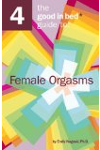 More About this Book
The Good in Bed Guide to Female Orgasms
Want to learn how to achieve 487 different kinds of orgasms?If so, you're reading the wrong guidebook. Despite what many in the media would have you believe, there's no such thing as a rainbow...
Continue Learning about Achieving Orgasm