We approach conception sex with the fantasy that every time we make love, it will be meaningful and special. In this fantasy, you recognize the exact moment you conceive because you and you partner are so filled with love for each other and your baby. The clouds part, the angels sing. It's a beautiful image, no doubt. But for many couples, the reality of trying to conceive can be much less dreamy - and a whole lot more stressful.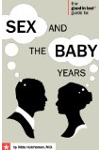 More About this Book
The Good in Bed Guide to Sex and the Baby Years
Available at a substantial discount for a limited time only, thanks to support from K-Y(R) Brand!Once you get down to the business of baby-making, the advice will pour in: books, magazines, in-laws,...
Continue Learning about Women's Health

Did you know that women are more likely to seek medical care than men? Sexual health needs, like pregnancy and contraception, often necessitate early visits to a doctor. But as we age, various health issues affect women more than ...
men, including depression, weight problems, and certain types of arthritis.In order to maintain your health and wellness, make sure you get an annual checkup.
More