6 Ways to Boost Your Breakfast
Start your morning off right with these healthy breakfast ideas.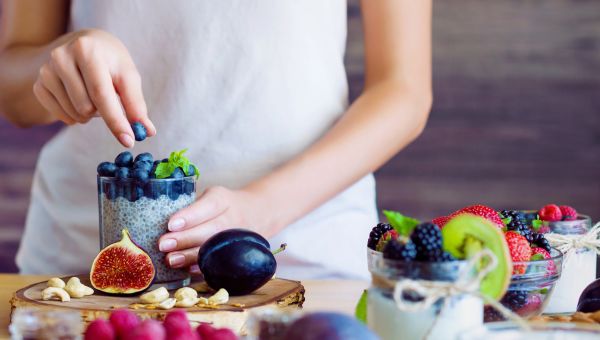 1 / 7
Mornings can be jam-packed, tempting you to skip breakfast or pop through the drive-thru. It can seem harmless (and tasty) at the time, but those choices can wreak havoc on your health. "People who skip breakfast have a higher BMI, higher risk of developing type 2 diabetes and a higher chance of getting heart disease," explains dietitian Leah Roberts, RD, Diabetes Education Coordinator at Twin Cities Hospital. On the flip side, eating a nutritious breakfast can help shrink your tummy, supercharge your brain and put more pep in your step. Try these easy ways to make the most of your morning meal.
Medically reviewed in October 2019. 2 / 7
Tip #1: Cover all the bases.
So, what does the best breakfast look like? "We need a little bit of everything from all of our food groups, because the key is staying balanced. Breakfast helps you concentrate, eat healthier throughout the day, perform better during physical activities and deal with stressful situations," says Roberts. To get all those benefits and feel full, try to include good sources of protein (eggs are just fine!), carbs and a little bit of fat (whole egg, avocado, peanut butter or nuts) in your early meals. Get more healthy breakfast ideas. 3 / 7
Tip #2: Do smoothies right.
Smoothies can be a fast and refreshing way to start to your day. The problem is that if you're not careful, you could wake up to a total calorie bomb. Roberts suggests making smoothies yourself, so you know exactly what's going in the blender. "Use fat free milk and the yogurt of your choice (I like Greek yogurt for the protein and calcium), frozen fruit and even some dehydrated peanut butter powder," says Roberts. Fruit juice racks up the calories, so get your vitamin C and fiber by adding fresh or frozen fruit instead. 4 / 7
Tip #3: Eat in.
One of the most common morning mistakes? Settling for the drive-thru. "Fast food is extremely high in calories, saturated fat and cholesterol, and extremely low in nutritional value," explains Roberts. "If we go to a coffee shop and get a latte and a pastry, there's no nutritional value. There's a lot of fat and calories, but no good source of protein, so we end up being more tempted by sweets and snacks throughout the day," she says. The solution is simple: Wake up 15 minutes earlier and make your own quick meal. It's better for your health—and your wallet. 5 / 7
Tip #4: Skip the juice.
No matter what kind, all fruit juices are packed with sugar. "Skip the juice all day long," says Roberts. She doesn't recommend juice for adults at all, and says it should be watered down for kids. Why? "Think of juice as liquefied sugar, so it's not something we need. Juice is actually more concentrated with sugar than a regular soda!" And wrap your head around this: A serving of juice is actually just one-third of a cup. So, one cup of juice is three servings—and three times the sugar. A smarter beverage option (besides milk, water or coffee) is veggie juice, but watch out for artificial sweeteners, Roberts adds. 6 / 7
Tip #5: Embrace oatmeal.
It's been around for ages and is easy to fancy up with your favorite toppings, but not all variations are created equal, so make sure you're stocking up on the right kind of oatmeal and add-ons. If you want something less processed, opt for steel-cut oats. More importantly, look at the overall carbohydrate content, says Roberts. "If something says 'sugar free' or 'less sugar,' we still need to understand how many carbs it has. A half cup of cooked oatmeal is one serving of carbs." She recommends one cup with sliced apples, half a banana, berries or almonds to help you feel full. 7 / 7
Tip #6: Aim for variety.
Breakfast doesn't have to be extravagant, just healthy and packed with flavor. Here are a few of Roberts' easy breakfast combos:
Sweet: Greek yogurt with nuts and one serving of fresh fruit.
Classic: Sandwich with whole-grain bread, one egg, low-fat cheese, spinach and tomato.
Veggie: Egg and veggie omelet, glass of fat-free milk and fresh fruit.
Savory: Burrito with whole-wheat tortilla, eggs, black beans, avocado, low-fat cheese and salsa.
Quick: Egg and veggies in a coffee mug, microwaved for one minute. Replay Slideshow