6 Ways to Boost Your Breakfast
Start your morning off right with these healthy breakfast ideas.
Medically reviewed in September 2022
Updated on September 6, 2022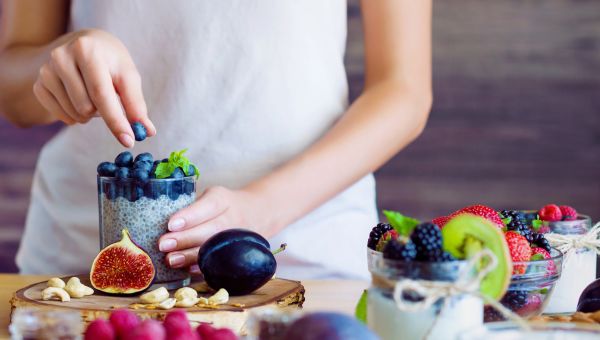 1 / 7
Between work, school, and other life obligations, mornings can get pretty jam-packed, tempting you to skip breakfast or pop into the drive-thru. The problem is, while it may seem harmless at the time, not paying attention to breakfast can negatively affect your health.
"People who skip breakfast have a higher BMI, higher risk of developing type 2 diabetes, and a higher chance of getting heart disease," explains Maryland dietitian Leah Roberts, RD.
On the flip side, eating a nutritious, well-balanced breakfast can help manage your weight, supercharge your brain, and put more pep in your step. With that in mind, try these easy ways to make the most of your morning meal. 2 / 7
Cover all the bases
So, what does a wholesome breakfast look like? "We need a little bit of everything from all of our food groups, because the key is staying balanced," says Roberts.
To keep you feeling satisfied through lunch, be sure to include a protein, such as an egg, low-fat cheese, or a handful of nuts. For energy, opt for high-quality carbohydrates, like fruit, vegetables, or whole grains such as oatmeal or whole wheat toast. Produce also contains valuable vitamins and minerals your body needs for optimal health.
Limit or avoid highly processed foods, which can come with lots of added sugar and saturated fat. These include boxed cereals, packaged pastries, and bacon, among other items. 3 / 7
Do smoothies right
Smoothies can be a fast and refreshing way to start to your day. The problem is, if you're not careful, you could overdo the calories.
To remedy this, Roberts suggests making smoothies yourself, so you know exactly what's going in the blender. "Use fat-free milk and the yogurt of your choice—I like Greek yogurt for the protein and calcium—plus some frozen fruit and even some dehydrated peanut butter powder," she says.
Since fruit juice can quickly rack up calories, Roberts adds, get your vitamin C and fiber by adding fresh or frozen fruit instead. 4 / 7
Eat in
One of the most common morning mistakes? Settling for the drive-thru. "Often, fast food is extremely high in calories, saturated fat, and cholesterol, and extremely low in nutritional value," explains Roberts. "If we go to a coffee shop and get a latte and a pastry, there's a lot of fat and calories, but no good source of protein." As a result, she says, you may end up being more tempted by sweets and snacks throughout the day.
The solution is simple: If you can swing it, wake up 15 minutes earlier and make your own quick meal. It's better for your health—and your wallet. 5 / 7
Limit juice
Many fruit juices contain more sugar than soda, says Roberts, so try to minimize your intake. Small amounts of juice—no more than a few ounces per day—are okay for kids, though children under age 1 shouldn't have juice at all, according to the American Academy of Pediatrics.
If you do drink juice, choose a brand that's 100 percent juice, with no added sugars. Though you'll miss out on the fiber you'd get from eating whole fruit, some research links 100 percent juice to better diet quality and a higher intake of nutrients.
When in doubt? The healthiest beverage option is water, but veggie juice may be a good alternative in some cases. Just watch out for artificial sweeteners and added salt. 6 / 7
Embrace oatmeal
The beloved breakfast standby is a delicious, endlessly customizable, healthy way to start the day—if you stock up on the right kind of oatmeal and toppings.
First off, be aware that instant oatmeal packets often come with added flavors and sugar. So, if possible, make your own using plain oats. Though they have similar nutritional value, you may want to choose steel-cut oats over rolled or instant oats. They're less-processed and have more fiber, meaning they take longer to digest and are better for blood sugar.
For add-ins, Roberts recommends sliced apples, half a banana, berries, or almonds to help you feel full. Or, dollop a little canned pumpkin or peanut butter on top—they add nutrients and disappear into the bowl once you stir. Spices like cinnamon, ginger, and cloves add flavor without extra calories, too. 7 / 7
Aim for variety
Breakfast doesn't have to be extravagant—just healthy and packed with flavor. Here are a few of Roberts' favorite easy breakfast combos:
Sweet: Low- or non-fat Greek yogurt with nuts and one serving of fresh fruit
Classic: Sandwich with whole-grain bread, one egg, low-fat cheese, spinach, and tomato
Veggie: Egg and veggie omelet, glass of fat-free milk, and fresh fruit
Savory: Burrito with whole-wheat tortilla, eggs, black beans, avocado, low-fat cheese, and salsa
Quick: Egg and veggies in a coffee mug, microwaved for one minute Replay Slideshow
Slideshow sources
Ma X, Chen Q, et al. Skipping breakfast is associated with overweight and obesity: A systematic review and meta-analysis. Obes Res Clin Pract. 2020 Jan-Feb;14(1):1-8.
Ballon A, Neuenschwander M, & Schlesinger S. Breakfast Skipping Is Associated with Increased Risk of Type 2 Diabetes among Adults: A Systematic Review and Meta-Analysis of Prospective Cohort Studies, The Journal of Nutrition, Volume 149, Issue 1, January 2019, Pages 106–113.
Ofori-Asenso R, Owen AJ, & Liew D. Skipping Breakfast and the Risk of Cardiovascular Disease and Death: A Systematic Review of Prospective Cohort Studies in Primary Prevention Settings. J Cardiovasc Dev Dis. 2019 Aug 22;6(3):30.
Better Health Channel (Australia). Breakfast. Reviewed December 3, 2020.
Johns Hopkins Medicine. Wake Up to the Benefits of Breakfast. August 2012.
Academy of Nutrition and Dietetics. Power Up with Breakfast. Reviewed March 2021.
University of Washington. What Does a Healthy Breakfast Look Like? Accessed September 1, 2022.
Rutgers: New Jersey Agricultural Experiment Station. Build a Better Smoothie. September 2015.
UC Davis Health. Is fruit juice bad for you and your children? July 19, 2019.
HealthyChildren.org (AAP). AAP Recommends No Fruit Juice for Children Under 1 Year. May 22, 2017.
Harvard TH Chan School of Public Health. Oats. Accessed September 1, 2022.
Paudel D, Dhungana B, et al. A Review of Health-Beneficial Properties of Oats. Foods. 2021 Oct 26;10(11):2591.
Mayo Clinic. Start your day with healthy oatmeal. October 6, 2021.
Agarwal S, Fulgoni Iii VL, Welland D. Intake of 100% Fruit Juice Is Associated with Improved Diet Quality of Adults: NHANES 2013-2016 Analysis. Nutrients. 2019 Oct 18;11(10):2513.
Ruxton CHS, Myers M. Fruit Juices: Are They Helpful or Harmful? An Evidence Review. Nutrients. 2021 May 27;13(6):1815.