According to National Academy of Sports Medicine (NASM) exercise guidelines, the body can lose approximately 2.2 pounds of fat per week, given a 1,000-calorie deficit per day.

You see, each pound of fat is 3,500 calories. You can lose one to two pounds of fat per week, but not much more than that. An increased energy deficit, beyond 1,000 calories per day, will lead to starvation, forcing the body to shut down and conserve as much energy as it can to survive. In this scenario, you will find that when starvation occurs, change will not happen. The body is focused on surviving the energy drought. Good nutrition, coupled with a comprehensive exercise plan, is the only way to lose the weight you want and keep it off.

Continue Learning about Weight Loss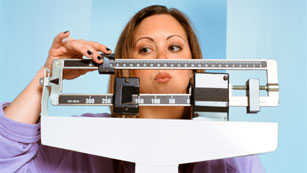 You know that to lose weight you need to burn more calories than you take in. There are only two ways to do this: reduce the number of calories you take in or increase the amount of calories you burn each day. Once you learn to do ...
this, it will be easier to maintain your weight.
More