A big meal will be immediately apparent on the scale, in the amount of how much you ate. Eat 2 pounds of food, and you'll be 2 pounds heavier. With a healthy diet and regular exercise, this is balanced out by our bodies converting food into energy over time. If we eat more calories than we use up, then gradually we keep gaining weight. Some foods, especially foods that are high in sodium, can cause us to retain excess water, which would mean gaining MORE than just the weight of the meal. So the effect of a single meal can possibly be greater than the meal itself and show up later.
Continue Learning about Weight Loss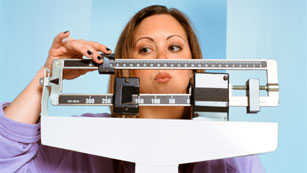 You know that to lose weight you need to burn more calories than you take in. There are only two ways to do this: reduce the number of calories you take in or increase the amount of calories you burn each day. Once you learn to do ...
this, it will be easier to maintain your weight.
More