Trans fats are one type of fatty acid formed during the processing of partial hydrogenation. They are found naturally in some foods but mostly from foods that are partially hydrogenated. Trans fats act like saturated fat in the body and tend to raise blood cholesterol levels. A food label that indicates 0 trans fats means the product has less than .5 grams of trans fat per serving. Therefore, it is important to check the serving size of the product you are consuming.
The Food and Drug Administration (FDA) announced that trans fat was a contributing factor to coronary heart disease. If a product says it contains few or zero grams of trans fat, look at the nutrition label. Often it will be loaded with saturated fat, which can be just as unhealthful as trans fat. Example: One popular frozen snack makes the "zero trans fat" claim on the front of the label, but the nutrition facts panel shows it has 17 grams of saturated fat, 80 percent of the daily value of fat a person should consume.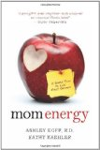 More About this Book
Mom Energy: A Simple Plan to Live Fully Charged
       From celebrated dietitian Ashley Koff and fitness trainer to the stars Kathy Kaehler comes Mom Energy, an exciting new way for moms to tap into their own natural and renewable sources of...
Continue Learning about Trans Fats