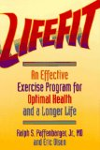 Trans fat or trans-fatty acid is a type of fat that, research reveals, is a dangerous substance produced in the process of hydrogenation. It's not only saturated fats in animal products or hydrogenated vegetable oils that are bad for health; so are these trans-fatty acids.

The Nurses' Health Study of some 85,000 women found that subjects who consumed large amounts of margarine and shortening used in cookies, bread, and other baked goods had a 70 percent higher risk of heart disease than women who used little or none.

Another study of the dietary habits of 239 heart attack patients and 282 healthy people looked at the amount of trans-fatty acids in their diets and found that the risk of heart attack was twice as high among those who consumed the most trans-fatty acids compared with those who consumed the least.