Ankle braces, particularly stirrup models, are the best treatment in the acute phase (first 3 weeks) of an ankle sprain. Research has shown that these braces combined with therapy and weightbearing will result in faster, stronger recovery. After the first 3 weeks it is best to protect the ankle with a sports brace or taping for at least 3 months for athletic participation.
A brace can be a helpful tool to wear if you have sprained your ankle. An ankle brace will support your ankle when you walk and your foot flexes. An ankle brace can help prevent you from spraining your ankle again. The brace should support the outside and inside of your ankle, preventing the rolling motion that is often the cause of a sprained ankle. The decision to wear a brace can be left up to the comfort of whomever has to wear it.
(This answer provided for NATA by the Eastern University Athletic Training Education Program.)
Continue Learning about Sprains and Strains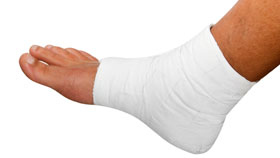 A sprain occurs when there is an injury to the ligament supporting a joint. The most common sprains are ankles, knees, wrists and thumbs. Symptoms of sprains are swelling, bruising, pain and sometimes loss of movement to the affec...
ted joint. Learn more about sprains and strains from our experts.
More