Ultraviolet light from the sun will cause a scar to darken and make cause hyperpigmentation. Always wear sunblock of at least spf 25 if possible for one year after the scar develops.
Scars typically turn brown in response to sunlight and the UV radiation found in the sunlight. Often lasers can be used to treat the hyperpigmentation in scars and reduce it.
Your scar likely changed color because it was exposed to the sun. This sensitive skin is more likely to burn or change in color if exposed to the sun before fully healed.
Continue Learning about Skin Injury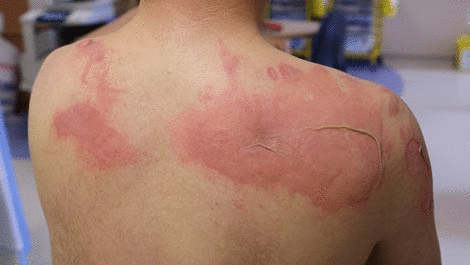 Not all skin injuries are cuts and scrapes. Heat, friction and pressure can cause skin injuries like burns, sunburn and blisters. A burn is a traumatic skin injury caused by a heat source like scalding liquid or a hot pot, a radia...
tion source like the suns rays, an electrical source like open wiring or a chemical source like acid. Depending on the severity of the burn, treatment can include wound care and pain management, skin grafting, intravenous fluids or cosmetic surgery. Some burns can form blisters, which actually act as a protective, fluid-filled buffer for damaged skin. Blisters also form from skin conditions like eczema and friction sources like ill-fitting shoes. Keeping the area clean with antibiotics and a dressing or bandage is usually enough to heal a blister.
More