How does sickle cell anemia affect the body?
Sickle cell anemia causes an oxygen deficiency in different parts of the body, which can be dangerous. For instance, if developing cells do not receive enough oxygen, their growth can be stunted. Often, a person with sickle cell anemia will have a low amount of red blood cells because sickle cells are abnormally frail, which can cause anemia. The abdominal and chest pain experienced by someone with sickle cell anemia is caused by arteries that have become obstructed by a buildup of sickle cells. If sickle cells cause spleen damage, the body may become more prone to infection. Sickle cell anemia can also damage blood vessels in the eyes, decreasing vision.
Continue Learning about Sickle Cell Disease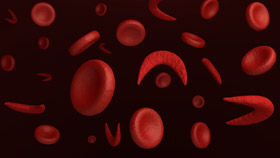 Sickle cell disease (SCD) is a group of inherited disorders in which hemoglobin, the protein in red blood cells that carries oxygen, becomes hard and sticky and looks like a sickle. The symptoms of sickle cell disease include abdo...
minal pain, bone pain, shortness of breath, delayed growth, fatigue, fever and chest pain. A bone marrow transplant may cure the disease; otherwise, treatment focuses on symptom management.
More