The reason people hold their breath as they approach orgasm is because their thoracic diaphragm is clenching rhythmically along with their abdominal, buttock, thigh, and pelvic muscles. Orgasm, being the explosive release of sexual tension, is preceded by a buildup of tension that comes over your partner like the tide coming in. You'll be able to see and feel the tension move through your partner's body in waves, hear it in his or her breath. If their abdomen isn't taut and their feet aren't tense, that's something to wonder about.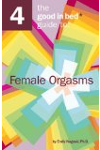 More About this Book
The Good in Bed Guide to Female Orgasms
Want to learn how to achieve 487 different kinds of orgasms?If so, you're reading the wrong guidebook. Despite what many in the media would have you believe, there's no such thing as a rainbow...
Continue Learning about Orgasm