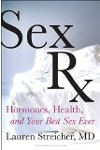 Virtually any woman can learn to have an orgasm. In medical circles, the term anorgasmic has been replaced with pre-orgasmic. Many experts (and most women!) know that clitoral stimulation rather than vaginal stimulation is required to orgasm. In other words, for the majority of women, intercourse alone won't do it.

Masturbation is usually the best way to discover what creates the most pleasure and to find out about your own sexual response. In addition, if you have never used a vibrator, run, don't walk to your nearest erotica store.

Sex toys are not for lonely deviants. In fact, it's more likely than not that your neighbor and your sister use one. Sex toys fall into two basic categories: those that are inserted in the vagina and those that are used for external stimulation. Most women require external stimulation to reach orgasm.

Once you've achieved orgasm using your hand or a vibrator, it's easier to tell your partner what will satisfy you. It's increasingly common for couples to incorporate a vibrator into their love life. Some women worry that the guy in their life will be insulted or upset if they introduce a mechanical aid. On the contrary, most guys are thrilled to have some help making sex pleasurable for the woman they care about.