Virtually any woman can learn to have an orgasm. In medical circles, the term anorgasmic has been replaced with pre-orgasmic. Many experts (and most women!) know that clitoral stimulation rather than vaginal stimulation is required to orgasm. In other words, for the majority of women, intercourse alone won't do it.

Masturbation is usually the best way to discover what creates the most pleasure and to find out about your own sexual response. In addition, if you have never used a vibrator, run, don't walk to your nearest erotica store.

Sex toys are not for lonely deviants. In fact, it's more likely than not that your neighbor and your sister use one. Sex toys fall into two basic categories: those that are inserted in the vagina and those that are used for external stimulation. Most women require external stimulation to reach orgasm.

Once you've achieved orgasm using your hand or a vibrator, it's easier to tell your partner what will satisfy you. It's increasingly common for couples to incorporate a vibrator into their love life. Some women worry that the guy in their life will be insulted or upset if they introduce a mechanical aid. On the contrary, most guys are thrilled to have some help making sex pleasurable for the woman they care about.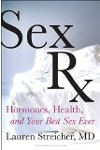 More About this Book
Sex Rx: Hormones, Health, and Your Best Sex Ever
For millions of women in America, sex isn't always pleasurable or even possible. Instead, sex has become a low priority as they navigate marriage, motherhood, and work . . . not to mention cope with chronic stress and lack of sleep. Throw in the natural fluctuations in hormone levels that all women experience throughout their lives and it's not surprising that sex can become, well, a little less sexy. Additionally, common gynecological problems can make sex uncomfortable, and medical issues can cause it to be downright painful.Dr. Lauren Streicher, a leading women's sexual health expert, offers women the courage, vocabulary, and knowledge to identify and solve problems in the bedroom, for a wide range of issues—from flagging libido, vaginal dryness, and sex after menopause, to hormone supplements and the effects of medication, Sex Rx offers a wealth of knowledge, along with a good dose of humor and plenty of encouragement, so that every woman, no matter what personal challenges she has, can make having great sex a part of their lives forever.Sex Rx was originally published in hardcover as Love Sex Again.
Orgasm difficulties in college age women are associated with the Sexual Inhibition System, or SIS, responding to too many things. If your SIS has learned to put on the brakes in response to worries about body image and performance, these worries can delay or prevent arousal and orgasm.

Through the practice of mindfulness and systematic desensitization, you can train your SIS to ignore body image, worries about performance, and other thoughts that can impede sexual arousal and orgasm.

Each day, spend 5-30 minutes lying still and noticing how your body feels. Your mind will wander -- that's normal -- and your job is to redirect your thoughts back to the sensations in your body. Over time, your mind will stay more readily focused and your sensory awareness will grow more acute.

Week by week, add erotic stimulation, gradually increasing its intensity. At first, just touch your body in a general way and notice how that feels. After a week or so, add breast stimulation. Maybe another week later, add genital stimulation.

You needn't try to increase your arousal level; just notice how your body responds to various kinds of touch.

Stay aware of the physical changes you notice happening as your body becomes aroused; notice how your breathing changes, how the sensitivity of your skin changes, how the tension in your muscles changes. If you find yourself worrying about whether or not you'll have an orgasm, gently return your attention to the sensations in your body. Just allow your arousal to increase or decrease, however it wants to in response to sensations.

Eventually you can add fantasy to the physical sensations and notice how your arousal changes depending on what you're thinking about.
Continue Learning about Orgasm