To find out whether you probably have premature ejaculation (PE), answer the following questions:

1. Are you unable to control when you ejaculate?
2. Do you ejaculate within a minute or less of starting intercourse or even upon penetration?
3. Have you tried various methods to deal with PE, only to have your hopes dashed?
4. Are you dissatisfied with your sex life?
5. Do you often worry about ejaculating too soon or pleasing your partner?
6. Does even foreplay often lead to ejaculation? Do you struggle with the slightest touch to your penis when you're fooling around with a woman?
7. When you ejaculate prematurely, do you attempt to hide it (for example, if you're still partially clothed)?
8. Do you avoid intimate situations because they could lead to premature ejaculation -- so why even bother?
9. Have you been repeatedly frustrated by your inability to satisfy a woman through intercourse?
10. Has PE damaged your relationships with women?

If you answered "yes" to most of these questions, you could have chronic PE.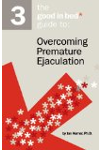 Continue Learning about Premature Ejaculation