Premature ejaculation (PE) is less of a problem if you can satisfy a woman, regardless of how that happens. Many men with PE become skilled at oral sex. Oral sex isn't just the most consistent way to give a woman an orgasm, it takes the pressure off your penis and allows you to slow down and observe.

It's imperative that you focus more on satisfying your partner, period, and less on whether her orgasm occurs through intercourse. Partners of men with PE are more likely to cheat, especially if they are not achieving orgasms in other ways. Many women will say that it's okay, and generally women seem more accepting of sexual experiences that don't always include orgasms, but this is really the exception rather than rule, and we should not get into the mindset of diminishing the importance of the female orgasm as part of the overall experience of sex. Your partner is less likely to be angry and aggravated about your PE if she's feeling fulfilled. She still might be frustrated that sex needs to happen in a certain way or that she's limited in pleasuring you, but in general she'll be more supportive. Give your partner an orgasm and you shift PE from Code Red to a more tolerable situation for you both.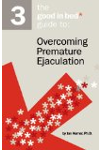 Mastering oral sex can be an important ingredient in a sexual pantry whether or not you have premature ejculation. With premature ejaculation, you need to be more focused on other ways to pleasure your partner. Since the majority of women climax through stimulation of their clitoris the ablity to explore and expand your technique has the power to limit the frustration she may be feeling about the PE.
Look for more information about giving good oral sex at my site www.saricooper.com
Continue Learning about Premature Ejaculation