Some research shows that guys with premature ejaculation (PE) also appear to have an increased heart rate, compared to men without PE. Sounds unrelated, but this difference may actually help explain a potential cause of PE.

That's because men with PE shift from their parasympathetic to sympathetic nervous system more rapidly than men without PE. An increased heart rate is caused by the sympathetic nervous system. This system also controls our fight-or-flight response to stressors. Those stressors could be anxiety, the presence of a person in the next room, a loud sound from outside the bedroom, or even just the excitement of sex.

Men with PE shift more easily to the sympathetic nervous system and are much more vulnerable to rapid ejaculation. Their very anxiety and nervousness around having PE and being in a sexual situation may well be the reason these sympathetic responses have been triggered. Being able to manage and lower your heart rate will be one factor in developing ejaculatory control.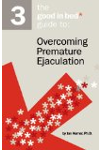 Continue Learning about Premature Ejaculation