9 Incredible (and Easy!) Ways to Spice Up Healthy Foods
Take your favorite health foods up a notch with these yummy and creative preparation ideas.
Medically reviewed in June 2022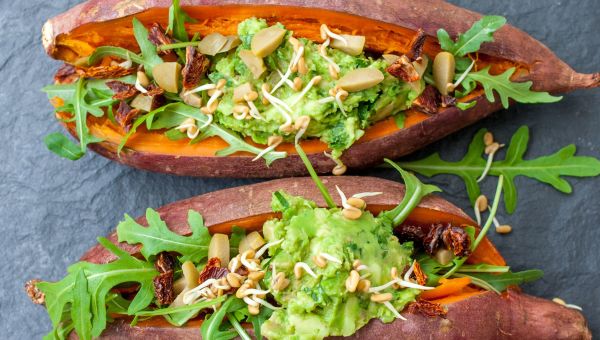 1 / 10
Nutritious foods like chicken and beans are packed with big health benefits but can get boring if you're eating them on the reg or always prep them the same way. Dietitian Carrie Demcher, RDN, of Medical City Alliance in Fort Worth, Texas, shares easy ways to spice up 9 of the healthiest foods. 2 / 10
Chicken
Lean meats like chicken are good protein options because they're low in fat, but high in nutrients that help build strong bones, muscles and skin. Branch out from plain boiled or baked chicken by using your crockpot, says Demcher. Cooking chicken in the crockpot can keep the chicken tender and moist. Some of her favorite easy flavorings? Shredded crockpot chicken with no-sugar-added buffalo sauce, tomato sauce, barbeque sauce or salsa (red or green!).
Marinades can also help amp up your chicken's flavor. Try a mixture of soy sauce, olive oil, fresh thyme and garlic for a quick and easy weeknight baked chicken meal, or fresh lime juice, cilantro, jalapeno, garlic and olive oil for grilled chicken tacos.
And who doesn't enjoy a good one-pan wonder recipe? Place chicken cutlets, fresh carrots, potatoes and fennel on a pan, drizzle with olive oil, and sprinkle with parsley, garlic powder and fresh ground pepper. Roast in the oven for about 20 minutes at 425 degrees, and your entire dinner is done with one dish. It's that easy! 3 / 10
Broccoli
Naturally fat free, broccoli is packed with antioxidants, fiber, folate, vitamins C and A, potassium and B6, but the green veggie can taste pretty plain in its original form. "Broccoli can help our gastrointestinal health, may lower cholesterol and act as a cancer-fighting food," says Demcher.
Stay fuller longer by adding raw or cooked florets to eggs (like omelets or frittatas), salads or stir-fry meals. Or toss together broccoli, olive oil, chili pepper flakes and grated Parmesan, and bake in the oven. You can also top cooked broccoli with marinara and feta cheese, or saute it in lemon, olive oil and garlic and add to whole-wheat pasta, for an easy weeknight dinner.
Healthify your typical rice bowl by swapping the rice for broccoli florets and then add your usual protein and seasonings, plus other veggies like cabbage and carrots. When making these simple recipes, make the broccoli your main attraction and double up on those portions. Use leftover broccoli pieces by mashing or shredding it up and creating fritters—mix the broccoli with almond meal, eggs, onion, garlic, salt and pepper, then fry in olive or coconut oil. 4 / 10
Tomatoes
Red tomatoes are chock full of lycopene, an antioxidant that may lower your risk of prostate cancer and heart disease, and Demcher says cooked tomatoes may increase those health benefits. "Cooked tomatoes actually have more phytochemicals. The lycopene is more readily available to the body whenever the tomatoes have been cooked."
Toss tomatoes in olive oil, salt, pepper and bake for a delicious side dish. Add baked grape tomatoes, artichoke hearts and broccoli florets to a whole-wheat pasta dish. When using this recipe, cut your pasta portion and double your veggie portion.
When raw sounds better, try dicing them and adding to fresh bread topped with avocado, and ricotta cheese. You can also combine chopped tomatoes, onion, cucumbers, parsley, olive oil and lemon juice to make an easy Israeli salad. Or makeover a classic sandwich by skipping the BLT and opting for an ALT: avocado, lettuce, tomato on whole-wheat bread. 5 / 10
Beans
Beans are super high in fiber, a nutrient that helps regulate your bowel health, lowers your cholesterol levels, may help you lose weight and can help control your blood sugar levels. But despite their health benefits, they can be pretty bland right out of the can or bag.
"Black or pinto beans can be cooked in the crockpot with Mexican spices like cumin, chili powder and red pepper flakes," says Demcher. For a simple side dish, try simmering pinto beans, onion, one bay leaf, bacon, paprika, salt and pepper for an hour. And there's even more ways to branch out with your bean making: try bean and cheese tostadas, white bean soup, bean-based burgers, bean hummus or a handful on top of your salad for some added fiber. 6 / 10
Salmon
Wild-caught salmon is full of omega-3 fatty acids, which may help lower your risk of heart disease, chronic pain, some cancers and symptoms of autoimmune diseases like multiple sclerosis. When it comes to prepping it, salmon is pretty versatile—you can bake, grill, pan-fry, broil or eat it raw.
"Honey-glazed salmon is one of my favorites. Just sprinkle it with pepper and bake, then drizzle with honey as soon as it comes out of the oven. Because the salmon is so warm, it melts and glazes over," says Demcher. If you're looking for a creative lunch pick, salmon salad is no brainer. Combine skinless salmon, Greek yogurt, lime juice, cilantro and avocado, mix together and scoop on top of a salad or spread on whole-grain bread.
Grilling is another effortless way to make salmon—sprinkle salmon with salt and pepper, then lightly brush with olive oil, grill until desired doneness, then top with homemade or no-sugar-added store-bought salsa. 7 / 10
Potatoes
Sweet, red, yellow or russet—potatoes are super easy go-to starches. With the skin, potatoes have fiber, potassium and a good amount of vitamin C. Instead of using butter, cheese and sour cream, try topping or stuffing your baked potato with things like guacamole, salsa, black beans or corn. Top roasted potatoes with spices like onion powder, rosemary or garlic powder for an extra kick.
Leaning on potatoes as a comfort food? Healthy mashed potatoes are easy, too—swap butter and full-fat milk for light sour cream and skim milk. Creative additions like parsley, tarragon, chives, fresh parmesan or spinach can also take the traditional dish up a notch, without added fat and calories. And instead of old-fashioned style potato salad filled with mayonnaise, try red potatoes, Greek yogurt, pesto, lemon zest and fresh herbs—satisfying, low-calorie and refreshing. 8 / 10
Nut Butters
Eating peanut, cashew and almond butters by the spoonful is delicious but definitely not the most exciting way to eat the protein-packed condiment.
Add a spoonful to your smoothie or cup of Greek yogurt for an extra protein boost. Everyday sauces like spicy Asian peanut and peanut satay call for nut butters, so feel free to get creative with which kind of nut butters you use. Top your morning oatmeal with a tablespoon of your favorite nut butter, or add nut butter to your favorite muffin recipe for added protein. In the summertime, try making popsicles with nut butter, coconut milk, cooked carrots, cinnamon, ginger and a sweetener of your choice.
Spice up ordinary PB&Js by using breads with seeds or grains, and then adding fresh fruit like strawberries, apple slices or bananas. 9 / 10
Dark chocolate
Move over milk chocolate: dark chocolate is the new go-to. Dark chocolate can be a bit bitter, especially if you're choosing one with a high percentage of cocoa, but it has some amazing, hard to ignore, health benefits.
"The cocoa in dark chocolate has an antioxidant component to it, and if you get the dark chocolate with the highest percentage of cocoa, it's got fiber in it, too," says Demcher. According to one study, dark chocolate may help lower the risk for heart attacks and strokes in people with metabolic syndrome, a group of risk factors that increase your chances of heart conditions and diabetes.
Pair two squares with berries for a quick and satisfying dessert, Demcher suggests. You can also shave it over your morning oatmeal, drop a few chips into your smoothie, or combine it with your favorite nut butter and spread over graham crackers. 10 / 10
Oats
Whole-grain oats are packed with fiber, which promotes good gut health and cholesterol levels, and may also lower your risk of heart disease, stroke, obesity and type 2 diabetes. The high-fiber food will also keep you fuller, longer, but let's face it—plain oatmeal is just not that tasty by itself.
If traditional oatmeal is something you crave in the mornings, try prepping overnight oats. Simply mix oats, unsweetened milk, banana and chia seeds together and refrigerate overnight. Add crushed nuts like pecans or almonds and fresh fruit like blueberries on top when you're ready to eat it in the morning.
Oats is also the key ingredient in "rawnola," aka healthy granola. Simply blend together rolled oats, Medjool dates, coconut flakes and cinnamon, and once it has a crumbly texture, lay on a sheet pan and bake. The mixture is great as a yogurt topping or by itself to satisfy a mid-afternoon snack craving.
And if you're feeling especially oats-obsessed and want a pancake recipe that kids and adults alike will love, try oatmeal-cookie pancakes with raisins and walnuts. Replay Slideshow