To help prevent premature ejaculation (PE) consider taking tantra sex workshops or just try out the following:

First, prepare with some tantric yoga. Exercises like yoga have been shown to help those suffering from sexual dysfunction. In fact, those who practice Tantra recommend Kundalini yoga, because it's been shown to have tantric benefits, especially if you perform the poses with a partner. This particular type of yoga can relieve your stress and relax your body. In addition, because it is a yoga of awareness, it will improve your ability to sense and understand your partner's sexual needs. Finally, Kundalini yoga helps to strengthen your pelvic floor muscles, which can be helpful when you're attempting to delay your orgasm.

When you're finally ready to test your new knowledge in the bedroom, settle down together (perhaps after a relaxing bath, massage, or glass of Champagne) and attempt to harmonize your breathing. Sit across from each other and gaze into each other's eyes, and try to match your breathing to your partner's. Do this for 5 or 10 minutes. Next, experiment with touch, caressing each other's bodies and discussing what feels good. As you naturally transition into foreplay, maintain eye contact, and continue to harmonize your breathing. Keep it slow, and concentrate on giving your partner pleasure. Move into slow, sensual sex, using mindfulness and the exercising of your pubococcygeus (PC) muscles to keep your orgasm at bay. If you feel yourself heading toward the brink, pause in your lovemaking, relax, tighten your PC muscles, and breathe. Then continue for as long as you can manage. While there's something to be said for hot, sweaty, quick and dirty sex, the slow sensuality of tantric sex has the potential to eradicate any issues you may be having with PE.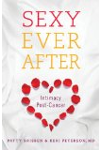 More About this Book
Sexy Ever After: Intimacy Post-Cancer
Recent studies show that 40-100 percent of men and women who have been treated for cancer have experienced some level of sexual dysfunction. Sexy Ever After: Intimacy Post-Cancer will help you...
Continue Learning about Premature Ejaculation