If you suffer from pain during sex, here are some tips adapted from "Self-Help Tips for Vulvar Skin Care" (used with permission from the National Vulvodynia Association) to help you reduce your discomfort and enhance your enjoyment during sex:
Practice Kegel exercises to strengthen the muscles of the pelvic floor
Use plenty of lubricant.
Use a topical anesthetic gel with a 5% concentration of the local anesthetic lidocaine to ease burning during intercourse. You can get this with a prescription from your healthcare provider.
Apply a frozen gel-pack wrapped in a towel to your vulva to ease irritation after manual sexual stimulation or intercourse.
After intercourse, urinate (to avoid an infection) and rinse your vulva in cool water.
Some women will benefit from training the muscles of the vaginal opening to relax using pelvic floor stretching exercises or lubricated dilators. Other women may benefit from treating vaginal atrophy with regular use of long-acting vaginal moisturizers or low dose vaginal estrogen cream, tablets or ring.
Many women love intercourse for the intimacy and closeness it provides with a partner, as well as for the physical pleasures of intercourse itself. As a result, when intercourse becomes painful, both partners can feel distraught. The first strategy for making intercourse more comfortable is a visit to a healthcare provider to rule out an infection or other medical condition. Treating a bacterial or yeast infection will generally solve the problem.

If an infection isn't the problem, vaginal dryness often is. Try using a store-bought lubricant to make sex more comfortable. There are hundreds of varieties on the market, and a lubricant can help ease penetration, not to mention add some novelty to sex.

In fact, spending more time in foreplay may be the best treatment of all for painful intercourse, since the more aroused a woman is, the more her vagina lubricates and expands. At high levels of arousal, muscular contractions pull the uterus up in to the body, making the vagina longer, which can make more room for a partner's penis. Waiting until both partners are at peak arousal can be a great strategy for minimizing pain, and encourages couples to expand their sexual repertoire.

If painful intercourse is the result of a health condition, which requires treatment in its own right, a woman should visit her healthcare provider and explore options for treatment. In the meantime, couples still can find other ways to be sexual and feel connected, including manual and oral stimulation, sensual massage, and sex toys.
Continue Learning about Sex and Relationships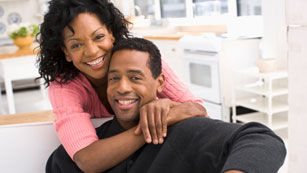 A healthy sex life and strong relationships contribute to your physical and mental health in many ways, from keeping you fit and youthful to helping you live a longer, happier life.