When you're having sex, telling the difference between real hip rocking and fake hip rocking takes careful attention. Earlier in arousal, hips move less rhythmically and less reliably. If your partner is a hip mover, you may notice a kind of rolling, searching motion, like their pelvis is feeling around in the dark for the light switch. (How's that for an unsexy simile?) But as he or she becomes increasingly aroused and myotonia (involuntary muscle contractions) takes over, the pelvic movements become [H1] more purposeful, more rhythmic, more thrusting. Don't mistake size of rocking for intensity of rocking. Small movements can be just as indicative of arousal as big movements; it's a matter of the tension in the muscles, not the external, behavioral manifestation of that tension.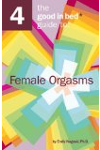 More About this Book
The Good in Bed Guide to Female Orgasms
Want to learn how to achieve 487 different kinds of orgasms?If so, you're reading the wrong guidebook. Despite what many in the media would have you believe, there's no such thing as a rainbow...
Continue Learning about Sex and Relationships