There are many things you can do to prevent a flare-up of plaque psoriasis:
• Identify your triggers and avoid them. They are different for every person, but include infections (like sore throats), cuts on the skin, severe sunburns, stress, smoking, and even some medications.
• Document what happens before a flare-up, and tell your doctor about it.
• Stop smoking, and limit your intake of alcohol (one drink for the ladies, two for the men).
• Manage your stress (easier said than done, we know), but exercise (get those 10,000 steps), sufficient sleep (6 to 8 hours a night), a good diet (5 food felon-free), deep breathing, and yoga can help.
• Keep your skin moisturized, and use a sunscreen regularly.
• Don't scratch or pick at your skin.
• Wear cotton or other soft fabrics, not those itchy wool sweaters your grandma always gets you (Sorry, Grandma!).
• Bathe in warm water and use soap or shampoo that is fragrance-free.
Continue Learning about Plaque Psoriasis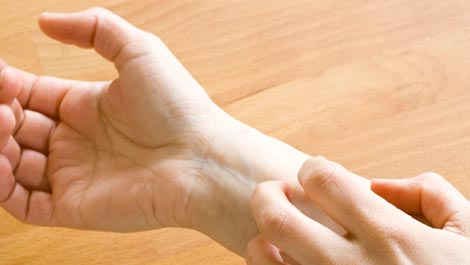 Plaque psoriasis is an incurable disease of the immune system. It varies by person but typically appears as lesions, inflammation, and redness on the scalp, torso, knees and elbows. Although researchers do not know what causes pso...
riasis, there are treatments to lessen the severity, such as topical steroid and non-steroid creams and ultraviolet-light therapy. Learn more from our experts about psoriasis.
More