Your symptoms are called "metatarsalgia." It is pain in one or more joints where the foot meets the toes. On the bottom of the foot, this pain is felt in the "ball of the foot."
If the pain is near the big toe and moving that toe causes pain, I would suspect it's osteoarthritis (degenerative joint disease). This is especially common in people over the age of 50. You can think of it as a "wear-and-tear" type of joint disease in which the smooth lining of the joint (the cartilage) wears down over time.
Here are some other causes of metatarsalgia:
Neuroma (when nerve tissue gets thicker or squeezed, most often between the 3rd and 4th toes; also called "Morton's neuroma")
Joint inflammation (as with rheumatoid arthritis or gout)
Stress fracture
Trauma, as may happen with high-impact sports (such as running, jumping or tennis)
Other joint problems, such as hammertoe
Often, the cause of pain develops for no known reason.
See your doctor. To figure out the possible causes of your pain, your doctor will ask you details about your pain, including exactly where it is. A foot exam will help too.
Most people with metatarsalgia will get better over time with treatment. And preventive measures (such as exercising, using shoe inserts or changing footwear) can improve the chances that once it gets better it won't return.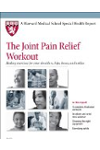 Continue Learning about Osteoarthritis