Can I have osteoarthritis even after total knee replacement?
Not in the same joint. Total joint replacement removes the arthritic ends of long bones and replaces them with metal caps.
Continue Learning about Osteoarthritis Treatment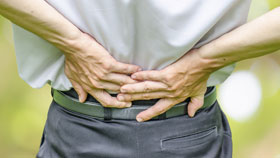 Osteoarthritis (OA) can be treated by managing the pain and stiffness with medications (topical pain relievers, injections and oral drugs or supplements) and regular exercise to build muscle and protect your joints. Other ways to ...
decrease pain and improve function include acupuncture, tai chi and yoga, weight loss, hyaluronic acid or corticosteroid injections, nonsteroidal anti-inflammatory drugs and braces or heel wedges.
More