5 Reasons Men Avoid the Doctor, But Shouldn't
Don't like tests? Too busy? Embarrassed? Go anyway. It could save your life.
Medically reviewed in July 2022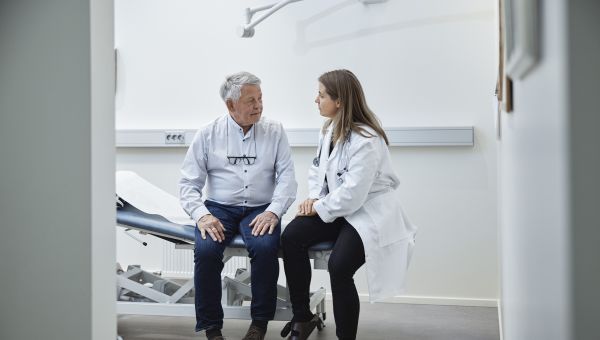 1 / 6
In a national survey of 1,000 men, more than 80 percent could rattle off the make and model of their first car—but only half could recall their last doctor's appointment. If that sounds like you (or the man in your life), listen up. Silent conditions like hypertension and colon cancer have few—or no—symptoms, meaning you may not know if you have them. So, no more excuses. Read on for a reality check, and make that doctor's appointment now. 2 / 6
Reason #1: "Why should I see a doctor? I feel fine."
Reality: You may feel fine, but the numbers don't lie: more men than women are diagnosed with diabetes and kidney disease. And according to the Centers for Disease Control and Prevention (CDC), 12.1 percent of US men have circulatory diseases like coronary heart disease, heart attack and stroke.
Many of these conditions, as well as some kinds of cancer, may not have symptoms you can see or feel—but a few simple tests can easily give your doctor a snapshot of your health. 3 / 6
Reason #2: "It will get better on its own."
Reality: The old "ignore-it-and-it-will-go-away" approach may have worked with your kid brother, but beware when it comes to your health. Case in point: your skin. About 3.5 million people are diagnosed with skin cancer every year, and men are more likely than women to die from melanoma, the deadliest form of skin cancer. The real shocker? Only 5 percent of men wear sunscreen daily, and about 50 percent of men haven't worn it at all in the past year. Protect your skin by wearing SPF and doing regular skin checks. If you see something suspicious, see a dermatologist. 4 / 6
Reason #3: "It's embarrassing."
Reality: Sure, talking about your sex life can be awkward, but it's important for your doctor to know your entire health history, including previous sexual encounters, to provide the best care. Your physician may suggest STD screenings, depending on your history.
You should talk to your doctor, too, about your risk of prostate cancer—especially if you're over 50, African American or if prostate cancer runs in your family. If you feel squeamish about the exam, you're in luck: A simple blood test called prostate-specific antigen (PSA) can help diagnose prostate cancer. Not all doctors agree about the best way to use the test, though, so talk to your doctor to see if it's right for you. 5 / 6
Reason #4: "I don't like tests."
Reality: Nobody likes being poked and prodded, but getting screened for certain conditions could save your life. For instance, colorectal cancer is the second leading cause of cancer-related deaths, but your risk of dying from the disease is greatly reduced if you're diagnosed early. In fact, there are more than one million colorectal cancer survivors in the US thanks to proper screenings and treatment.
If you're a baby boomer, you should get tested for hepatitis C (HCV). More than 75 percent of adults infected with HCV, often a symptomless disease, were born between 1945 and 1965. Left untreated, HCV can cause life-threatening diseases such as liver damage, liver cancer and cirrhosis. 6 / 6
Reason #5: "I'm busy."
Reality: When it comes to finding a doctor or booking an appointment, time isn't really an excuse. Scheduling online or on the phone usually takes just a few minutes, and most routine checkups can be done in a lunch break or less. Want more face time? Book back-to-back appointments, or ask the receptionist for extra time. And for the 21 percent of US men without a healthcare team, the Find a Doctor function on the Sharecare app (available for iOS and Android) makes it easy to contact a physician in your area. Replay Slideshow