There is no one psychological factor that CAUSES obesity per se (except for unregulated overeating - and even then, there are some cases of medical conditions that can contribute to the development of obesity in a person who is not necessarily overeating). Psychological factors that can be associated with obesity can include behaviors (eating, lack of activity), personality factors, stress which can lbe associated with poor diet and exercise in many people, feelings of being out of control with food, patterns of dysfunctional eating including binging, eating in response to emotional states, psychological distress (e.g. depression/anxiety), substance abuse/alcohol use, and family/cultural/socioeconomic factors. It is not enough to just address the behaviors - all of these other factors must be considered as well.
If you've grown up using food as a way to cope with life you will more than likely continue to use food as a coping mechanism until you can find another way to cope. This can lead people to being obese. The next time you are hungry try to determine whether or not that hunger is coming from your head or your stomach. If it is coming from your head it would suggest that you are using food to cope with things like boredom, anxiety, stress, confusion, frustration, love, anger, etc. It's time to pinpoint those situations so that you can alter using food and come up with a more healthy way of coping. Trying to find an alternative way of coping is hard but important. Brainstorm other things you can do besides eating and write them down. Now go through your list and pick out one or two ideas that might be reasonable for you. The next time you grab for food try the alternative.
Continue Learning about Obesity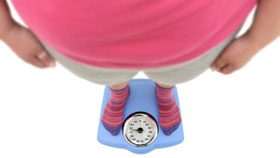 If you have too much body fat, you are obese, just like over 70 million other Americans. It happens because you eat more calories than you use, and your body converts the excess to fat. There are lots of reasons that this can happ...
en. Our lifestyle may lack exercise, we are given portions that are too big and too caloric when we eat, and some of us are just more efficient genetically at converting food into fat.
More