The nutrients that the body breaks down into basic units are carbohydrates, fats, and proteins. From carbohydrates comes glucose, your body's -- especially the brain's -- primary form of fuel; from fats we get glycerol and fatty acids, many of which are essential ingredients in hormones and the protective sheath in our brain that covers communicating neurons; and from proteins we get amino acids, which are the building blocks to lots of structures, including our blood, muscle, skin, organs, antibodies, hair, and fingernails.

Each of these nutrients travels down a different pathway, but all can eventually fuel the body's production of ATP (adenosine triphosphate), which is essentially our bodies' ultimate energy currency.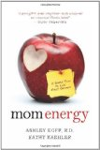 More About this Book
Mom Energy: A Simple Plan to Live Fully Charged
       From celebrated dietitian Ashley Koff and fitness trainer to the stars Kathy Kaehler comes Mom Energy, an exciting new way for moms to tap into their own natural and renewable sources of...
Continue Learning about Nutrition