The way many of us eat, we make burgers with full-fat beef, add cheese, and then avocado as well. However, you can enjoy that same burger, made with lean beef, topped with the proper serving of avocado, and a low-fat cheese.

You see, most people are eating their heart-healthy, "good for you" fats but also eating full-fat beef burgers without even thinking about it. Still other people eat their burgers without a bun because they've sworn off carbs. Eat a lean beef burger on a whole grain bun with avocado on top and you've got nothing to worry about. You've created the taste you crave while eating things you can feel great about -- and you will still lose weight!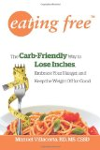 Many people avoid burgers when trying to lose weight; but burgers contain valuable nutrients, and there are tricks to making them healthier and leaner. Watch nutritionist Heidi Skolnik reveal her tips for making and enjoying a healthier burger.
Continue Learning about Nutrition and Weight Loss