Menopause is defined as the absence of menses for one year; however, hormone changes occur for years leading up to menopause. The actual time it takes to transition through menopause varies from woman to woman.
The contents of this website are for informational purposes only and are not intended to be a substitute for professional medical advice, diagnosis, or treatment. Nor does the contents of this website constitute the establishment of a physician patient or therapeutic relationship. Always seek the advice of your physician or other qualified health provider with any questions you may have regarding a medical condition.
Menopause transition, also sometimes called perimenopause, refers to the four to eight year period that your body transitions into menopause. During this time, you may notice some physical and emotional changes. The most common include:
Irregular menstrual periods
Hot flashes
Vaginal dryness
Urinary tract infections
Stress incontinence
Night sweats
Insomnia
Headaches
Heart palpitations
Forgetfulness
Mood changes
Anxiety and irritability
Diminished concentration
The transition to menopause, sometimes called perimenopause, is usually a gradual process. It involves the fluctuation of hormonal levels and some physical changes before the last menstrual cycle. It spans a period of one to six years or more. For most women, the menopause transition begins in their mid-forties and is completed in the early fifties.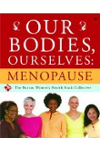 More About this Book
Our Bodies, Ourselves: Menopause
FROM THE EDITORS OF THE CLASSIC "BIBLE OF WOMEN'S HEALTH," A TRUSTWORTHY, UP-TO-DATE GUIDE TO HELP EVERY WOMAN NAVIGATE THE MENOPAUSE TRANSITION For decades, millions of women have relied on Our...
Menopausal transition is also known as perimenopause, when your body produces less estrogen, a sex hormone. The reduction in estrogen brings on perimenopausal symptoms such as hot flashes, fatigue, worsening premenstrual syndrome, vaginal dryness, irregular periods, mood swings, breast tenderness, and difficulty sleeping.
At the end of menopausal transition, when you have not had a period for 12 months, you'll be in menopause, and your body will produce very little estrogen.
The menopause transition refers to the span between when estrogen begins to decline, up until menopause is complete. We also call that perimenopause. It takes four years on average for the levels of estrogen produced by the ovaries to get low enough for periods to stop completely, but the transition can last up to six years or even longer.
Continue Learning about Menopause