Nearly four in ten women are bothered by hot flashes during the late menopausal transition stage and post-menopause. According to one large study, about 26 percent of women have severe hot flashes; while according to another, 15 percent of women experience hot flashes on more than fifteen days per month, and 9 percent experience them every day.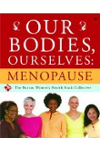 More About this Book
Our Bodies, Ourselves: Menopause
FROM THE EDITORS OF THE CLASSIC "BIBLE OF WOMEN'S HEALTH," A TRUSTWORTHY, UP-TO-DATE GUIDE TO HELP EVERY WOMAN NAVIGATE THE MENOPAUSE TRANSITION For decades, millions of women have relied on Our...
It's estimated that 66% to 85% of women get hot flashes in midlife, during menopause. At least half of those women stop getting them within a year or two after their period ends. Another 20% to 50% of women continue getting hot flashes for years after, though they tend to be less intense as time goes by.
Up to 85% of women experience hot flashes during midlife. Research shows women of color have more of them than Asian or Caucasian women. Some women never get them and some can have 10 or more a day. They last usually last between one and five minutes. Talk to your doctor about treatment options.
One hundred years ago, women spent less time in post-menopause. Their life expectancy was decades shorter, and hot flashes were not a major issue. Today, about 75 percent of women experience hot flashes -- and about 25 percent do not. Hot flashes are the second most common sign of perimenopause, after irregular vaginal bleeding.
Continue Learning about Menopause