Ejaculation is something that might change over your life. Hormonal changes seem to influence ejaculation, so that some women start to ejaculate when they reach menopause, whereas other women stop ejaculating when they reach menopause. It's kind of like how
some women get acne when they go on the Pill, but other women's acne clears up when they go on the Pill. No one is sure why or how different women respond differently to changes in hormones; it's one of those questions that are still unanswered. So if you don't ejaculate now, wait a few years and see what happens!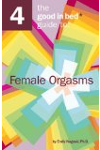 More About this Book
The Good in Bed Guide to Female Orgasms
Want to learn how to achieve 487 different kinds of orgasms?If so, you're reading the wrong guidebook. Despite what many in the media would have you believe, there's no such thing as a rainbow...
Female ejaculation is a controversal concept and may represent distinct physiological phenomena. There may be expulsion of a small quantity of female lubricatory secretions. This is thought to be relatively rare although no actual estimate of incidence is available. There may also be involuntary loss of urine, thought to be more common. The latter is likely to increase with changes in muscle tone that may accompany loss of estrogen after menopause or simply loss with aging and disuse. Most of the data about female ejaculation comes from self reports of women. However, there are an increasing number of well designed studies which support the concept of two distinct physiological processes. Pastor Z. J Sex Med. 2013 Jul;10(7):1682-91. doi: 10.1111/jsm.12166. Epub 2013 May 1
Continue Learning about Menopause