During your transition to menopause (when your periods stop altogether), due to hormonal fluctuations, you may experience unpleasant effects such as hot flashes, night sweats, and vaginal dryness. Other problems may include:
Mood swings
Loss of concentration
Sadness
Lack of motivation
Anxiety/ tension
Aggressiveness
Fatigue
Irritability
Sleep disruption
Loss of sexual desire
Discomfort or pain during sex
Body aches and pain
Breast tenderness
Talk to your doctor about these and other problems you face during menopausal transition.
For most women, menopause is a natural process and while the symptoms can be bothersome, they don't have to be problematic. There's a good chance you won't experience any serious problems during the transition into menopause, but it depends on how abruptly it happens and your personal response to the change. It is estrogen's disappearing act that causes most of the problems and these can range from mildly annoying to disabling. They include the vasomotor symptoms such as hot flashes, night sweats and facial flushing, sleep disturbances, changes in mood and thinking, and vaginal dryness and vaginal tissue thinning that can cause painful intercourse. This is also the time when women can begin to lose bone density. It doesn't mean you'll necessarily develop postmenopausal osteoporosis, a bone thinning disease that can cause serious fractures, but it does up the risk. Some women say that their desire to have sex changes. So the problems you face will depend on your own personal physical and psychological responses.
Problems that some women associate with changing hormones include hot flashes and night sweats; depressed mood; sleep disruption; sexual concerns; changes in cognition (thinking and judgment); vaginal dryness; urinary incontinence; and bodily aches and pain. Only a few of these become much more prevalent as women progress through the transition to menopause. Hot flashes, night sweats, vaginal dryness, and sleep disruption increase in prevalence, especially as women begin the late menopausal transition stage marked by skipping periods. How long these problems persist during post-menopause is uncertain because most studies have not followed women for more than two or three years after their final menstrual period.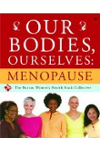 More About this Book
Our Bodies, Ourselves: Menopause
FROM THE EDITORS OF THE CLASSIC "BIBLE OF WOMEN'S HEALTH," A TRUSTWORTHY, UP-TO-DATE GUIDE TO HELP EVERY WOMAN NAVIGATE THE MENOPAUSE TRANSITION For decades, millions of women have relied on Our...
Continue Learning about Menopause Symptoms