Blood pressure increases with age in both men and women. Menopause is associated with a steeper increase in blood pressure than that due to age alone. Even a modest increase in blood pressure affects the risk of heart disease. The optimal blood pressure is below 120/80.Women with a systolic blood pressure between 120 and 140 or a diastolic blood pressure between 80 and 90 had heart disease and stroke almost six times more often than women with blood pressure of 120/80.
To measure blood pressure, a cuff is inflated to block the blood flow to the arm. Air is released from the cuff gradually; as the pressure in the cuff falls, the level on the dial or mercury tube at which pulsing is first heard is the systolic pressure. As the air continues to be let out, the pulsing sound disappears. The point at which the sound disappears is the diastolic pressure (the lowest amount of pressure in the arteries as the heart rests).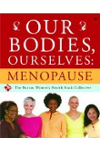 More About this Book
Our Bodies, Ourselves: Menopause
FROM THE EDITORS OF THE CLASSIC "BIBLE OF WOMEN'S HEALTH," A TRUSTWORTHY, UP-TO-DATE GUIDE TO HELP EVERY WOMAN NAVIGATE THE MENOPAUSE TRANSITION For decades, millions of women have relied on Our...
Continue Learning about Menopause Symptoms