Hot tubs will not affect a man's fertility if the exposure is limited to a few minutes daily or less. Still, high temperatures can decrease sperm production. That's why the scrotum is located outside the body -- sperm production occurs at 95 degrees, cooler than normal body temperature. Thus, it's a good idea for a man to avoid prolonged exposure to hot tubs, saunas and steam rooms when a couple is trying to become pregnant. However, occasional visits to the sauna and hot tub will have no effect.
Hot tubs can be great…relaxing, soothing, and sometimes romantic. If all a man cares about is sex, then a hot tub can be a perfect aphrodisiac and no harm done. But if he's interested in having sex and fathering children, he'd be wise to go another route and skip the hot tub. How come? Because it turns out that heat and sperm are a bad mix.

Let's back up a second for some basic anatomy here. Sperm are made in the testicles, which hang from the body in the scrotum. The reason for putting the family jewels in such a relatively precarious position is that the sperm-making Sertoli cells of the testicles don't work right unless they are cooler than body temperature by a few degrees Fahrenheit. Warm them up for more than a few degrees and for more than a few minutes and sperm production is temporarily shut down.

Normally, the testicles maintain a relatively constant temperature by raising or lowering closer to, or farther from, the body. The scrotum is lined with temperature-sensitive muscles. In warm conditions the muscles relax and let the testicles hang far from the body whereas cold temperatures (particularly cold water) make the scrotum contract, pulling the testicles tight against the body for added warmth.

But soaking in a hot tub makes it impossible for the testicles to remain cool. As relaxing as it may feel, it's not a happy experience for the testicles. Sperm formation slows or halts, and sperm that have already been made may be harmed, all of which can lower the chances the man can conceive a child. The same thing, by the way, happens if a guy has a high fever…sperm production will be temporarily interrupted.
Continue Learning about Male Infertility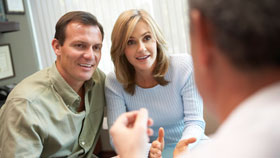 Male infertility includes low sperm count (not enough sperm to reach the egg), low motility (sperm don't move like they should), malformed sperm and blocked sperm ducts. Hormone imbalance, testicular disease, obesity and side effe...
cts from medication or supplements can also contribute. However, in nearly half of cases the cause remains unknown. Treatment options include surgery, medication and diet and lifestyle changes.
More