More rapid, intense contractions; a powerful "opening up" feeling; and rectal pressure are signs that you are completely dilated and ready to push your baby down through your vagina (birth canal) and give birth. You may urinate or defecate involuntarily. Often just before you feel like pushing or bearing down, contractions space out to provide a resting period that can last for a brief time, allowing you to rest, even to doze.
Pushing your baby out works best when you do just what your body wants, without external direction. Bear down when you feel the urge. Your pushing efforts will be more effective and powerful if you push when your urge is the strongest. If you have an epidural and cannot feel the contractions well, your care provider and support people can help you identify when to push down.
Pushing has a rhythm of its own. Each woman generally finds her own most comfortable ways of pushing within the first thirty minutes. At the beginning, your baby's head moves down with a contraction, then retreats a little; down again during the next one, and back again. This to-and-fro stretches your vaginal tissues, and the architecture of your pelvis molds the baby's flexible head bones to fit through it.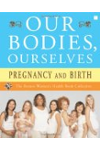 More About this Book
Our Bodies, Ourselves: Pregnancy and Birth
ALL THE INFORMATION YOU NEED TO MAKE WISE DECISIONS ABOUT YOUR PREGNANCY AND THE BIRTH OF YOUR CHILD -- FROM THE EDITORS OF THE CLASSIC "BIBLE OF WOMEN'S HEALTH" Pregnancy and birth are as ordinary...
Toward the end of labor, your nurse and doctor will help coach you to push. Watch me describe some of the signs indicating it's time to deliver the baby.
Continue Learning about Labor Stages