The transition phase of labor is the most intense and difficult phase of labor for most women. However, it is also the shortest phase of the first stage generally lasting approximately 20 to 90 minutes. During transition, uterine contractions are very strong, occurring about every 2-3 minutes and lasting 60 to 90 seconds. Because of the long duration and frequency of the uterine contractions, there is little time to rest. Many women also experience strong pressure in the lower back and rectum and increased bloody show. This intense work results in the completion of cervical dilatation.
In addition to the intense contractions most women experience nausea and vomiting, burping, hiccups, shaking of the body, hot and cold feelings, or sensitivity to touch during transition. Many women become restless, irritable, discouraged and confused. During the transition phase, women focus inward and may have a hard time communicating with others or following directions. This is the time during labor when the woman needs the most support for both her physical and psychosocial needs.
Transition can be the most intense phase of labor, but it is also usually the shortest. In first pregnancies, transition generally lasts no more than a couple of hours. Transition is when many women will consider having an epidural, so it is important to keep in mind that this is the home stretch, with your body having already accomplished most of the daffy cult work. During this phase, contractions are stronger, longer, and more frequent as they dilate your cervix and move your baby down the birth canal. Contractions may come so close together that they seem to merge into one long one with an overwhelming urge to push. Do whatever makes you feel more comfortable and helps you handle the intensity of labor.
At this point, comfort items such as mood music, a favorite pillow, or a photograph of your dog may become distracting and annoying, and even words of encouragement from your birthing partner may grate on your nerves. You may be irritable, nauseated, or shaky, with trembling thighs and knees. You may vomit, panic, or feel out of control.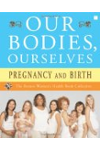 More About this Book
Our Bodies, Ourselves: Pregnancy and Birth
ALL THE INFORMATION YOU NEED TO MAKE WISE DECISIONS ABOUT YOUR PREGNANCY AND THE BIRTH OF YOUR CHILD -- FROM THE EDITORS OF THE CLASSIC "BIBLE OF WOMEN'S HEALTH" Pregnancy and birth are as ordinary...
Continue Learning about Labor Stages