While 100% fruit juices are much healthier than sugary sodas, pomegranate juice was ranked #1 according to a UCLA study based on levels of antioxidants. Pomegranate juice was ranked highest because it contained the most of each type of antioxidant. Juice that has a very vivid color (like most berries) typically has a higher level of antioxidants. Other juices that were high on the list include the following: Concord grape juice, blueberry juice, black cherry juice, acai juice, cranberry juice, orange juice and apple juice.
100% juice is definitely the way to go, but take a step further and check the ingredients list to make sure there is no added sugar. Sometimes even 100% juice has added sugar. Keep in mind that juice will never be a replacement for eating whole fruit. When you eat a whole piece of fruit you get the benefits from the juice and everything else present in the fruit.
All fruit juices have unique nutritional profiles, so it is great to enjoy a variety of 100% juices. Some have more vitamin C, such as grapefruit and orange, but orange also has more of the important nutrient, folate. If you are looking to increase cancer-fighting antioxidants, then select dark purple grape, cherry, blueberry or pomegranate juice. Many of the 100% juice blends contain mostly apple juice, which is fairly low in vitamins, so look for juices that have more of the reds, purples and orange fruits.
Pomegranate is the healthiest because it contains the most antioxidants than any other fruit out there. However, you will get antioxidants with your other fruits as well. But pomegranate is at the top of my list.
Continue Learning about Juices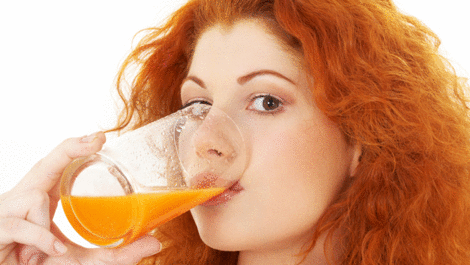 Juices add nutrients to your diet that you might not otherwise get from eating fruits and vegetables. Learn more about the benefits of juices from our experts.