While we know that everyone from 10-year-old girls to 50-year-old women enjoy beautifully painted nails, the truth is that painting your nails is like coating them with a medley of toxins. In fact, nail polish is likely the most toxic cosmetic there is. Polish includes such toxic substances as formaldehyde, phthalates (they're solvent for colors, but are toxic to the nerves and endocrine system), acetone, toluene (they keep the color in their liquid form, but they evaporate quickly and fill the air with toxins, putting your respiratory system at risk), and benzophenones (which are known carcinogens and have estrogen-like effects). If you apply polish in adequately ventilated rooms, it's probably ok, but surely you shouldn't be changing your polish several times a week, like some teens are known to do.

Also, don't use nail polish remover more than twice a month. Instead, touch up the polish. We know you'll roll your eyes, but acetone is so toxic to your eyes, nerves, and lungs, that it's a good idea to go to Home Depot and find one of those filters that will protect your lungs and brain when you use it. When you do need a remover, avoid those that use acetone, which dries nails. Repair splits or tears with nail glue or clear polish.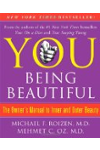 It's not clear that painting your nails is unhealthy, though some experts have raised concerns about this practice. The U.S. Food and Drug Administration (FDA) has determined that questions remain about the safety of certain chemicals used in some nail products and other cosmetics. If you're unsure about the safety of cosmetics and other skin care products that you use, talk to a dermatologist.

Continue Learning about Healthy Nails